WINDOW TINT SPECIALS NEAR ME
Have you just leased a vehicle and are looking for the best window tint specials near me? Welcome to Showroom Solutions Plus! At our shop, we know exactly what you need to keep your leased vehicle protected enough to keep you driving comfortably with peace of mind and prevent you from paying any additional fees when returning your car. From our experience, there are three main things that leased vehicle owners need to accomplish this. We have combined these three things into a special package at a great price to make your life easier and keep your car protected for the few years that you have it. Our lease special package includes a full window tint, a 6-Month ceramic coating, and a wheel coating to keep your rims clean and protected! A window tint keeps you and your interior cooler and more protected, which is an absolute necessity when living here in Medina and the surrounding areas. A 6-Month ceramic coating is an excellent replacement for a wax, keeping your paint shinier and more hydrophobic which will allow you to keep it cleaner for longer. Our ceramic wheel coating is the best way to keep your wheels protected and clean allowing you to just rinse off excess brake dust with ease. Package pricing will vary based on vehicle size and tint selected. Contact our team at Showroom Solutions Plus for the best window tint specials near me!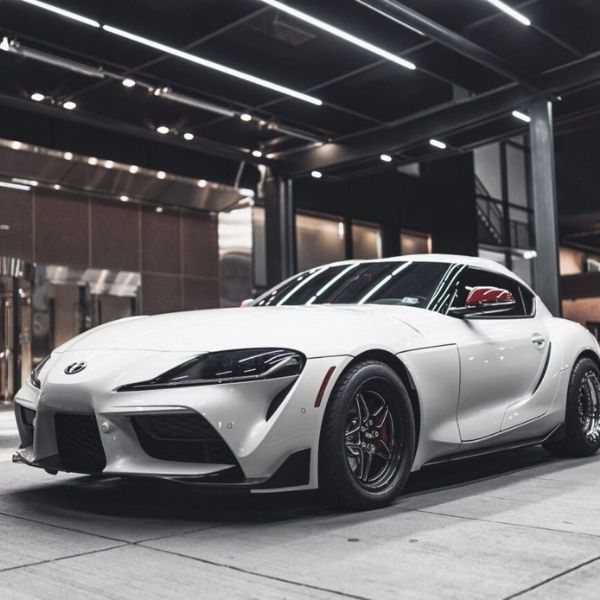 OUR LEASE SPECIAL PACKAGE

WINDOW TINT OF YOUR CHOICE
In addition to blocking harmful UV Rays, window tint reduces heat and glare. This allows for a more comfortable interior vehicle temperature and a safer drive. In Ohio, we experience harsh heat and humidity during the summers. The glaring sun causes dangerous visual obstruction to the driver and increases the risk for an accident to occur. The Ohio sun can take a toll on your vehicle's interior. Leather, cloth and plastics can become faded and damaged from the UV rays and heat. This is easily prevented with window tint.

6-MONTH CERAMIC COATING
A 6-month ceramic coating provides protection from the elements. Formulated to protect against damaging UV rays, oxidation, insect acids, corrosion, and contaminants. It resists stains and chemical etching by preventing discoloration from oils, pollutants, and other environmental impurities – which is definitely more than a wax would be able to do. The coating repels water, dirt, and road grime with its hydrophobic and self-cleaning properties. It improves surface clarity and increases color depth, leaving paint or PPF with a smooth and slick finish.

WHEEL COATING
Protecting your wheels and calipers with ceramic coating is not something you have probably considered before. Ceramic coating is an excellent way to protect your wheels and calipers from harsh contaminants. At our shop we use XPEL Fusion Plus Ceramic Coating. Fusion Plus Paint & PPF coating is specifically formulated to bond with the surface of your wheels and calipers! It has been tested and proven to withstand the wear and tear and the constant heat that your vehicle's wheels and calipers go through on a daily basis. With its hydrophobic properties, maintaining your wheels and calipers is much easier.