TESLA PAINT PROTECTION MEDINA
So, you just got a Tesla and you're looking for the best Tesla paint protection in the Medina area. Well it's a good thing you've found us here at Showroom Solutions! Let's be honest, your Tesla truly is an investment. It's a car that you have most likely gotten with the intentions on keeping for a while, so it's best to protect it the right way from day one. Lucky for you, we are the experts when it comes to all around Tesla protection. We have the experience to know exactly what you need to keep your Tesla looking like new. Tesla's are aerodynamically designed, making them magnets for rock chips. They also are have more glass than pretty much any other car on the market, that can make you feel like you're in a fish bowl sometimes. The combination that we found best for ultimate Tesla protection is a clear bra, window tint, and wheel coating package.  A clear bra will keep your front end protected from rock chips, a window tint will keep you and your interior protected, cool, and comfortable, and a wheel coating will keep your wheels easier to clean and protected as well. At Showroom Solutions, we truly love Teslas! Contact our team today for a free quote about our Tesla protection specials.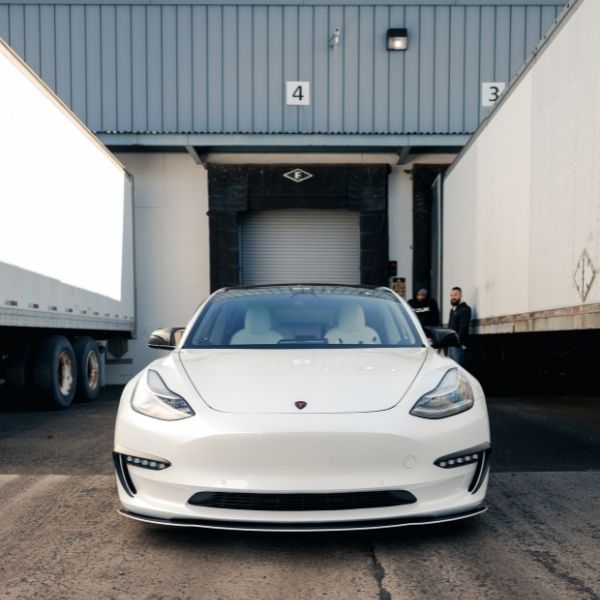 OUR TESLA PROTECTION PACKAGE

WINDOW TINT OF YOUR CHOICE
We recommend tinting the windshield and full sunroof in addition to the windows for added comfort and safety because of the Tesla's design. In addition to blocking harmful UV Rays, window tint reduces heat and glare. This allows for a more comfortable interior vehicle temperature and a safer drive. In Ohio, we experience harsh heat and humidity during the summers. The glaring sun causes dangerous visual obstruction to the driver and increases the risk for an accident to occur. The Ohio sun can take a toll on your Tesla's interior. The heat can become quite unbearable for you and your passengers, not to mention the glare that comes with the sun. This is easily prevented with window tint.

FULL FRONT CLEAR BRA
For Tesla's in particular, we recommend a full front clear bra package at a minimum. Keep your Tesla protected from scratches and swirl marks, prevent rocks chips, and keep it cleaner. Paint protection film is the only real way to keep your Tesla protected from rock chips without altering its appearance. Since your car has been an investment, it is important to drive with peace of mind knowing that you won't have to worry about dealing with paint damages down the line.

WHEEL COATING
Protecting your Tesla's wheels and calipers with ceramic coating is not something you have probably considered before. Ceramic coating is an excellent way to protect your wheels and calipers from harsh contaminants. At our shop we use XPEL Fusion Plus Ceramic Coating. Fusion Plus Paint & PPF coating is specifically formulated to bond with the surface of your wheels and calipers! It has been tested and proven to withstand the wear and tear and the constant heat that your vehicle's wheels and calipers go through on a daily basis. With its hydrophobic properties, maintaining your Tesla's wheels and calipers is much easier.